Dr. Dietmar Kennepohl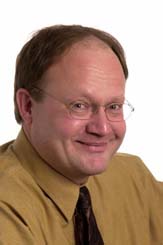 Dr. Dietmar Kennepohl FCIC
Dietmar Kennepohl is Professor of Chemistry at Athabasca University (AU). He graduated Summa Cum Laude from McMaster University with a B.Sc. (Honours) degree in chemistry in 1984 and continued directly to his doctoral studies in main group synthetic chemistry at the University of Alberta where he obtained a Ph.D. in 1990. He became an Alexander von Humboldt Fellow at Georg-August-Universität Göttingen in Germany where he investigated Te-N and Mn-N chemistry and later returned to Canada to design molecular metals as a post-doctoral fellow with a research group at the University of Guelph. He joined Athabasca University in 1993.
Most of his teaching experience has been in a distributed and online setting. He holds both a university and national teaching award. Over the years his research interests have included chemical education as well as petroleum, main group and coordination chemistry. His research in chemical education concentrates on the use of innovative distance delivery methods for undergraduate laboratory work. For example, the development of home-study chemistry kits (http://science.pc.athabascau.ca/chem217.nsf/experiments2?OpenPage) which are regularly used for AU's CHEM 217 course or the Canadian Remote Sciences Laboratories (www.remotelab.ca) portal done in collaboration with NAIT.
During his tenure at AU has been Acting Vice President Academic, served two terms as Chair of the Centre for Science and has been Program Director for the general B.Sc. and B.Sc. (Post Diploma) degrees. He was also a visiting professor at the University of Otago in New Zealand (1999-2000), Georg-August-Universität Göttingen (2007-2008), and the Open University in the United Kingdom (2008).
Recent Submissions