Colin Elliott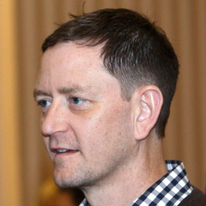 Recent Submissions
(

Athabasca River Basin Research Institute (ARBRI) Day

,

2015

)

The Repository expands upon ARBRI's existing bibliography by providing accessibility to an extensive body of research and scholarly information relating to the Athabasca River Basin by digitizing materials, such as ...

Learn about Athabasca University's open access institutional repository, what it is, how to use it, and how it will benefit your research.

(

AUFA Equity Colloquium

,

2017

)

AblePlayer is being implemented in the DRR as an accessible way to embed videos across courses using DRRs. This player supports audio and video playback, keyboard controls, closed captioning, live transcripts, adjustable ...

thabasca University Library has used a Digital Reading Room (DRR) to support courses for almost 10 years. While the old version of the DRR remained successful and functional, it was out of date and we embarked on a complete ...

To address challenges that learners, course creators, librarians and academics involved with OER and MOOCs are facing when looking for scholarly materials, Athabasca University Library has initiated the development of ...

In recent years, there has been a shift toward "openness" in higher education, with the growth of Open Access and Open Educational Resources (OERs) and the advent of Massive Open Online Courses (MOOCs). There is also ...

To meet the needs of students, and fulfill Athabasca University's mission to remove barriers to learning, Athabasca University (AU) Library has initiated a number of mobile learning projects.The poster ―Road to Mobile ...

Dr. Cindy Ives, Director of the Centre for Learning Design and Development (CLDD) at Athabasca University, discusses recent projects in the CLDD that have focused on open educational resources including initiatives to ...

An online, searchable bibliography of published materials relating to the Athabasca River Basin. BARB is intended to be a comprehensive resource for all researchers examining the Athabasca River Basin. A multidisciplinary ...

Content providers cannot ensure that digital material will be reformatted and accessed by any mobile device correctly due to mobile device limitations. A mobile device automatic detector can provide accurate information ...

(

Open Access Week 2010

,

2010

)

AUSpace: Building an effective institutional repository to support research communities and open access. AUSpace is Athabasca University's (AU) digital content repository. Its goal is to preserve and disseminate AU ...

(

ICT2010 Singapore

,

2010

)

Anytime and anywhere learning is here with mobile learning. The use of mobile technologies will allow adult learners to access learning materials and support from anywhere and at anytime. Adult learners work full-time or ...

(

ABC Copyright Forum

,

2010

)

Athabasca University's Athabasca River Basin Research Institute is developing a bibliography of the Athabasca River Basin (BARB) as a digital tool to promote knowledge building and information sharing. This highly ...

Very few knowledge management systems are mobile-friendly, resulting in limited access to content through mobile devices. Researchers and developers have put good effort into developing a mobile-friendly knowledge management ...

Rapid development and innovation of new technologies present many opportunities for improving learning. However, the fast rate of change, required technical aptitude, and available resources are barriers for people to adapt ...

(

Canada Library Association (CLA) Conference 2008

,

2008

)

With the rapid evolution of technology today, distance education is about to shift to Mobile learning where e-learning materials are being delivered through mobile devices. Wireless and mobile technology provides flexibility ...

(

Canadian Institute of Distance Education Research (CIDER)

,

2008

)

Demonstrating how an avatar-based 3-D learning environment can more fully engage learners in their online educational experience, the volunteer team of developers from Athabasca University will showcase a prototype of a ...