Dr. Greg Johnson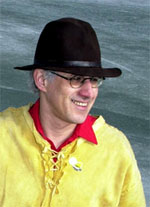 Born and raised on the West Coast, Dr. Gregory Johnson graduated from the University of British Columbia with a B.A. in History and International Relations in 1979 and then with an M.A. in History in 1982. The following year he moved to Toronto and completed a Ph.D. in History at York University in 1989.
Dr. Gregory Johnson subsequently taught at the University of Victoria, Red Deer College and the University of Alberta. He worked for a brief period in the private sector and was the Coordinator of the bicentennial of Lac La Biche, Alberta, a position which led him to write a local history of the area which was runner-up in the History Project of the Year Award in Alberta.
His primary interest is Canadian politics and foreign policy in the 20th Century and he has published several articles on Canada's interaction with the Pacific Rim. He has been teaching at Athabasca University since 1999.
Recent Submissions